Courses Levels and Calendars
Picking courses is part of a student's pathway to achieving their goals and dreams.
Course calendar
We offer a wide selection of courses at many different levels. Students and parents can access our course calendar online using Career Cruising.
Career Cruising is an online tool designed to help students plan their future.
Important dates
Visit this webpage often for important dates for course selections, timetable changes, graduation, and more.
[List important upcoming dates here]
Cracking the code
Secondary school courses are identified with a six character code. The first five characters are consistent throughout every high school in Ontario.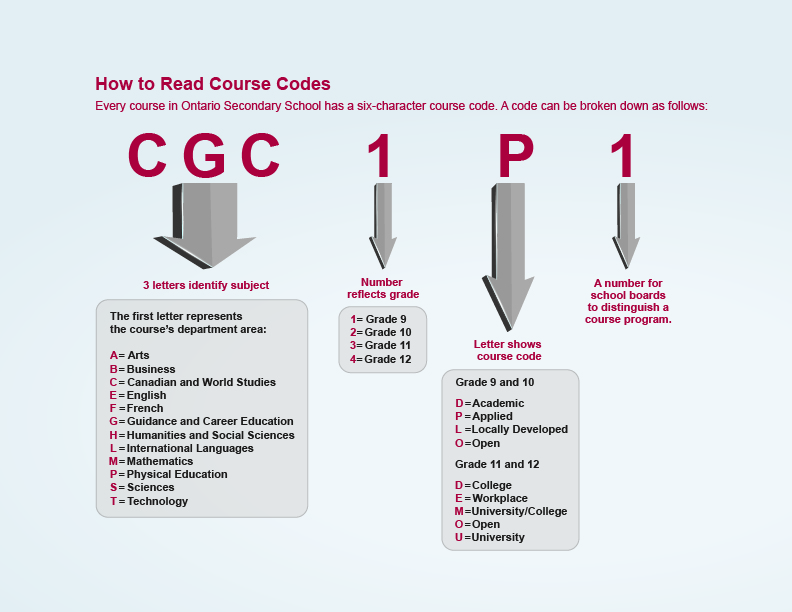 Type of courses
As part of your transition into Grade 9, you need to determine the academic level of courses you want to select. The academic levels in high school are:
Locally Developed Courses (L)
Students at this level:
learn the most essential concepts of a subject;
require teacher direction and instruction to accommodate learning needs and to complete activities;
improve basic literacy and numeracy skills;
learning skills need improvement or require consistent practice and reinforcement; and
students best suited for Locally Developed Courses have previously worked in the Level 1 range.
Applied Level Courses (P)
Students at this level:
learn the essential concepts of a subject;
emphasis is on practical and hands-on application of concepts;
students are more dependent learners, preferring discussions, teacher-directed or teacher-guided learning and real-life applications;
students who do well in Grade 9 applied have generally performed in the Level 2-3 range.
Academic Level Course (D)
Students at this level:
learn the essential concepts of a subject and explore related materials;
emphasis is on theory and abstract thinking as a basis for future learning;
students are creative and like to research and problem solve;
students are independent learners with good to excellent learning skills; and
students who do well in Grade 9 academic have generally performed in the Level 3-4 range.
Advanced Placement Course (AP)
Students at this level:
meet or exceed a high level of academic achievement (Level 4 or 80%) in a broad array of subjects;
are independent, self-directed learners;
process information quickly;
display intellectual curiosity; and
assume responsibility for their own learning.
Open Level Course
All students at all levels of academic abilities and learning needs and strengths can take an open level course. Expectations are designed to be appropriate for all students. These courses are usually in art and physical education.